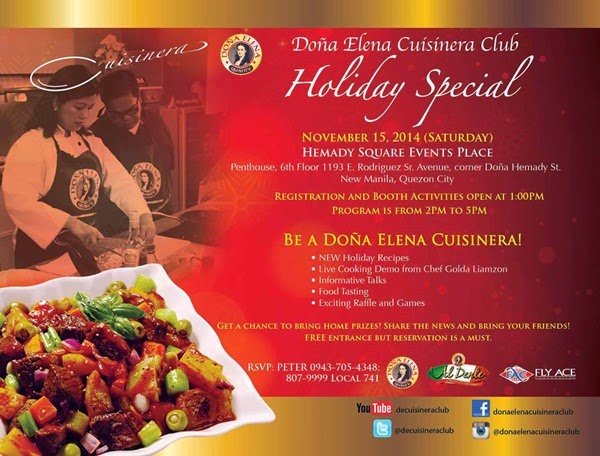 I was invited to the Dona Cuisinera Club Holiday Special held at the Dona Hemady Square Penthouse not too long ago. As expected it turned out to be an afternoon of informative talks, inspiring food demos by the Dona Elena Cuisinera Club resident Chef, and yummy food tasting. It was joined in by fellow mum bloggers and the growing members of the Dona Elena Cuisinera Club.
All about the Dona Elena Cuisinera Club
If you have not heard about the Dona Elena Cuisinera Club before then you can join the club. I was not aware this group existed until I got an invite to their event. This group of dynamic mums who love and enjoy cooking has been around since 2007.
The Dona Elena Cuisinera Club was born as a creative response against the perils of unhealthy living and aims to turn Filipinos into full-blown Cuisineras, people who champion healthy eating without compromising the taste and quality of the food. This group offers cooking classes, food tasting activities, as well as nutrition talks in their events.
To join and know more about the Dona Elena Cuisiner Club, you may reach through any of the following social media pages:
Facebook Page ~ donaelenacuisinaraclub
Twitter Page ~ @decuisineraclub
Instagram Page ~ @donaelenacuisineraclub
Youtube Channel ~ decuisineraclub
The Dona Elena Products