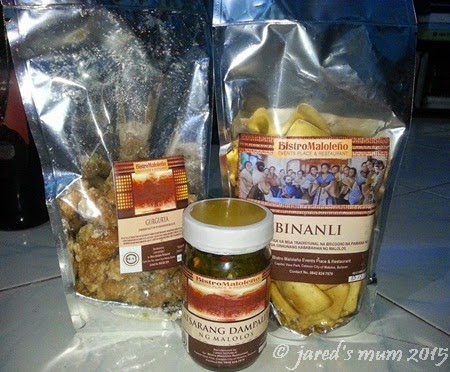 Not long ago, I came home with these goodies from the very first local event I have ever attended in my few years of blogging. I am certainly curious about these delicacies and admires the dedication of the people who made them and who aims to preserve these delectable and historic Bulacan heritage cuisine. These food items, you see, were originally prepared by Maloleños back when our country is struggling to break free the Spanish regime. These local food treats were most probably the same items in our great heroes' meals and menus.
The pastries, gurgurya and binanli, are instant hits at home, given that we all love breads and similar food items. They are perfect coffee companion and are great to serve during breakfast or snack time. I have yet to try the Atsarang Dampalit, though, and am wondering with which dish to pair it best. Do let me know if you have tips and ideas.
These age-old Bulacan goodies, by the way, are made by a local restaurant, Bistro Maloleño. Apart from these, they also have interesting items on their menu, including Emilio Aguinaldo's favorite, nilagang manok sa puti with asparagus, and Pochero ni Plaridel, a favorite of one of my favorite heroes, Marcelo H. del Pilar. I have not been to this local resto, so I hope to visit the place one of these days. If you are intrigued as I am with these heritage dishes, I suggest you drop by the place when you find yourself wandering in the city.
Bistro Maloleño
Capitol View Park
near Barcie, Malolos City
0942 824 7876
Facebook: #/BistroMaloleno