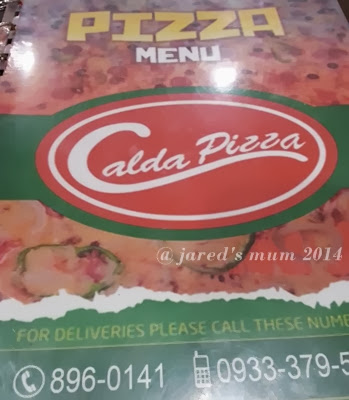 Did you know that I really love pizza? I love it too much, I must've been Italian in one of my previous incarnations! That is why I guess it was serendipitous that the jeepney driver stopped right in front of this pizza store in Tabang over the weekend. We made plans to go to Puregold earlier so that I can buy some stuff, but decided to go check this out, instead. I am guessing this place has just recently opened as I've never seen this in this side of town before.
Calda Pizza's has a clean and pristine air about it. It sure is a small place and it was a welcome break that the owner did not clutter the place with unnecessary items. Apart from the four big tables and the long chairs that almost crowded the entire store, the wall is empty apart from the pizza cartons glued onto it. A nifty decor and a handy guide for those ordering for the first time.
Right in front of everyone is the counter/kitchen, with the delectable pizza ingredients, an insanely huge amount of cheese weighted out at the weighing scale, and a front-row view so you can watch the crew as they create the beautiful pizza.
After giving the menu much thought, we settled for their Bianca pizza which is a delicious concoction of mozzarella cheese, ground beef, oregano and roasted garlic! Sure sounds yummy, won't you agree? We had to wait for another 25 minutes or so for the pizza to be ready, and time did flew fast as the little man entertained us with his antics and tricks 🙂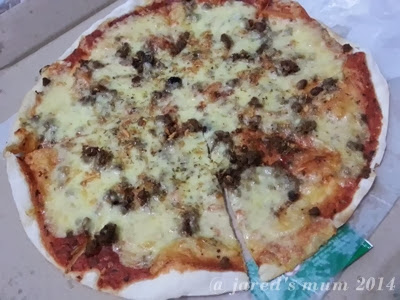 To say that it is delectable is an understatement. The thin-crust pizza is just everything I want in my pizza with all the generous amount of cheese, the hint of roasted garlic and oregano, and the meaty goodness of ground beef. For Php230, I'd say it is a good buy, especially when 3 grown ups enjoyed the wonderful meal.
I will surely go back to Calda Pizza and this early, while writing about www.reidsupply.com/, am already thinking of a great excuse to buy one of their Super 30″ pizza! 😀
Calda Pizza
Catindig Bldg., 118 Cagayan Valley Rd.,
Sta. Cruz, Guiguinto, Bulacan {near Puregold}
0933-379-5586/896-0141
Click here for more gastronomical adventures: