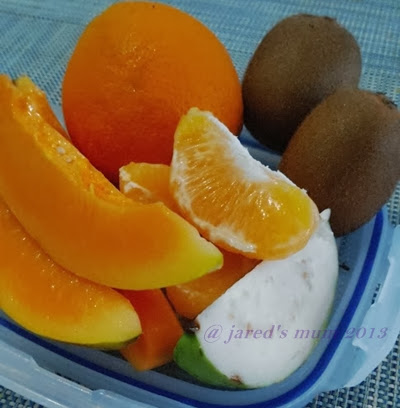 Fruits are my ultimate comfort food and I cannot go an entire week without having a few servings of my favorites. That is why I was rather relieved to finally be able to go to the grocers recently to stock up on some items in our pantry. I have been craving for some fruits for a while now so I made sure I stop by the fruits section to check out the items available there. And yes, I did not leave empty-handed as I was able to get a bunch of fresh fruits to bring home.
I got a couple of these big oranges, a number of kiwi, a medium-sized papaya and this big guava. I needed the Vitamin C boost, plus am hoping my little man will finally take interest in them. He needed it, too, so he won't suffer another nerve-wracking asthma attack. I really wish I can begin juicing soon. It would be great to be serving freshly-made juices to my son regularly at home! I just hope I can save enough to get me a nice juicer soon.
Anyway, can I just add that it is beginning to look a lot like Christmas? Why, you'd ask? Because of the lovely Christmas ornaments on display and the current sale that is happening in the grocers and the entire mall. A lot of interesting items are up for a much cheaper price at the mall's department store, including those huge LCD monitors, this excellent bt-105 and a lot of other items. If I am not pressed for time and needed to be home much earlier, I would've taken a look around to see if I can get something nice for myself or the little man. Oh well, maybe next time!
Anyway, what fruits did you buy for you and your family recently?