Want to keep healthy this year? Start with your cooking oil!
Jolly Heart Mate Canola Oil, Better for the Heart, Better for the Budget, is the heart-healthy, versatile, and value for money cooking oil. Canola Oil is one of the healthiest cooking oils because of its LOW saturated fat (BAD FAT) and high monounsaturated fat (GOOD FAT) content. Jolly Canola Oil has omega 3 and 6 which are good for the heart. It has a pale golden color, light texture, and neutral taste so you can use it for any dish. Jolly Canola Oil also has a high smoking point which makes it ideal for frying.
Hosted by Donita Rose, GMA 7's Basta Everyday Happy, recently showcased heart-healthy recipes using Jolly Heart Mate Canola Oil through the month of December. Eight episodes featured Filipino-favorites such as Beef Stew, Crispy Calamari, and one of Donita's personal favorites "in the whole wide world" as she shares on Instagram, Crispy Binagoongan. She tells of herBeef Kaldereta version "Pinoyanglasapero mas bongga! This is my Better Beefier Caldereta made healthier with Jolly Heart Mate Canola Oil!" Other healthy everyday recipes included Wholesome Chicken, Paella, and this Heart-Healthy Salmon recipe.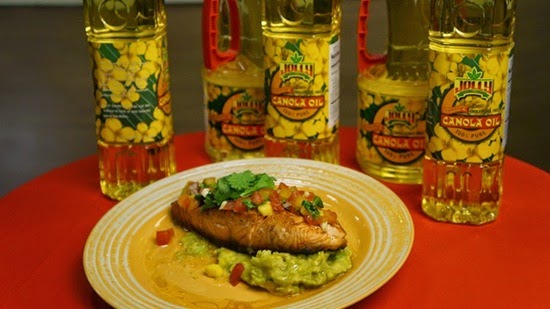 Heart-Healthy Salmon
Ingredients: Continue reading →