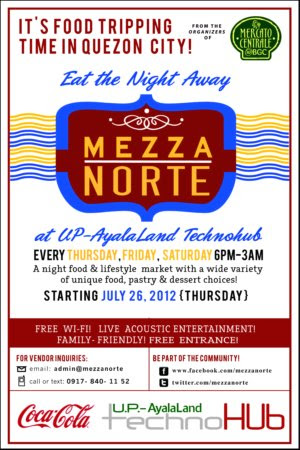 If I could without burning a whole in my pocket + gaining all the unwanted pounds, I'd satisfy my gastronomic craving every chance I get + two of the foodie adventures that I would love to check out soon will have to be The Mezza Norte night food market in Quezon City + the The Ultimate Taste Test Version 9.0 at the Soderno Night Food Market in Alabang. Check out this write-up to know more about these delectable adventures: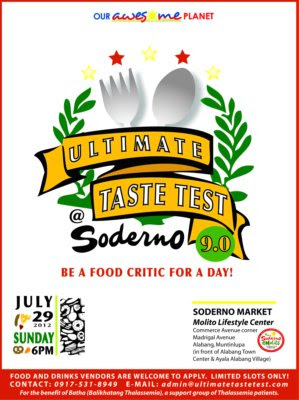 If you want to indulge in your culinary cravings this weekend, you're in luck! The Mezza Norte night food market opens in Quezon City on Thursday and the Ulimate Taste Test holds its ninth round in Alabang on Sunday!

From the same organizers of the popular Mercato Centrale food market in Bonifacio Global City, Mezza Norte in UP-AyalaLand Technohub along Commonwealth Avenue, Quezon City brings together the best in home-cooked foods and pastry and dessert finds that the North has to offer, along with your Mercato Centrale favorite food stands! Mezza Norte opens on Thursday (July 26) and will be open every Thursday, Friday and Saturday from 6:00pm to 3:00am.

Organized by Anton Diaz, the man behind the popular food and travel blog www.OurAwesomePlanet.com, the Ultimate Taste Test 9.0 is an opportunity to try out and personally critique different specialty foods and new or soon-to-be-launched dishes straight from the kitchens of up and coming and popular food entrepreneurs from all over Metro Manila.

Among the winners of the previous Ultimate Taste Tests are Dulcelin Gourmet specialties, Supreme Brazo, Angus Beef Tapa, Risa Chocolates, Carmen's Best Artisan Ice Cream and Merry Moo Premium Ice Cream. The Ultimate Taste Test Version 9.0 will be on Sunday (July 26) starting 6:00pm at the Soderno Night Food Market in Molito Commercial Center, corners of Madrigal and Commerce (in front of Alabang Town Center), Alabang.

If you are interested to enter your food and/or drink product/s in the Ultimate Taste Test, please contact rache@diaz.ph or 09175318949.