One of the most famous food staple this time of year is Nian gao, or what we fondly calls tikoy. This glutinous rice cake is believed to bring luck, especially when eaten during the Chinese New Year. I remember when I was a little girl, my father would normally come home with a couple of boxes of these whenever Chinese New Year was approaching. My mother would fry them with egg and they make for perfect late afternoon snack. Now tikoy comes in different delicious flavors apart from the plain ones that we used to know.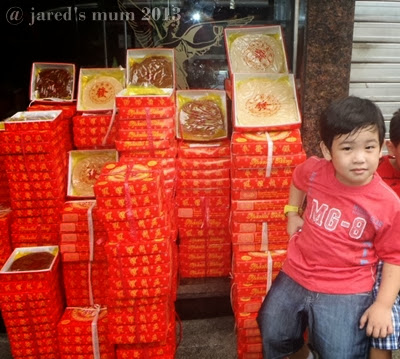 I was not lucky to receive a tikoy for this year, though, but I am planning to get me a box on my next trip to the grocers so that I can cook and serve some at home. All these tikoy photos on my Facebook timeline is making me miss its gooey taste all the more and I must satisfy that craving soon. Chinese or not, we all love tikoy, right?

The photos are taken during our trip to Binondo during the Chinese New Year Celebration last year. We saw these boxes upon boxes of tikoys being sold by one of the local shops there, I just had to take a quick snap. Good thing the little man was also very game to pose beside the red boxes.
Kung Hei Fat Choi!