I am a big fan of salads and pastas and my definition of a great, delicious feast include these 2 lovely dishes. Let me share these 2 new recipes from our friends from Dona Elena which you might find interesting to prepare for your family come Christmas. I have sampled them during the Dona Elena Cuisinera Club Holiday Special and I assure that they are simply scrumptious.
1. Salmon Caesar Salad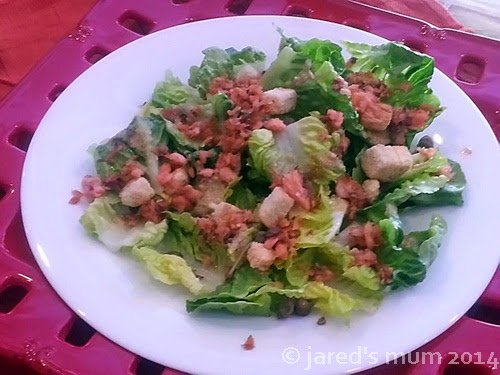 Here are the ingredients:
1 medium-sized lettuce, chopped
3 tablespoons lemon juice
2 pieces large egg yolks
6 pieces Dona Elena Flat Fillet Anchovies, mashed
3 pieces garlic cloves, minced
1/2 teaspoon Worcestershire sauce
10 tablespoons Dona Elena Pure Olive Oil
3/4 cups Parmesan cheese
1/4 kilogram salmon fillet
1 cup croutons
salt and freshly-ground pepper to taste
Here is how to prepare this dish:
Whisk lemon juice and garlic
Whisk in egg yolks, anchovies, and Worcestershire sauce
Drizzle in the olive oil in a slow and steady stream while whisking. Continue until dressing is thick.
Mix in the Parmesan cheese. Season with salt and pepper to taste.
For the salmon, heat some olive oil in a frying pan
Saute the salmon fillet, breaking into flakes while cooking. Season with salt and pepper and cook until salmon flakes become a bit toasted but not burnt.
Remove from heat
Toss the chopped lettuce with the dressing. Top with toasted salmon, capers, and croutons.