I am a big fan of salads and pastas and my definition of a great, delicious feast include these 2 lovely dishes. Let me share these 2 new recipes from our friends from Dona Elena which you might find interesting to prepare for your family come Christmas. I have sampled them during the Dona Elena Cuisinera Club Holiday Special and I assure that they are simply scrumptious.
1. Salmon Caesar Salad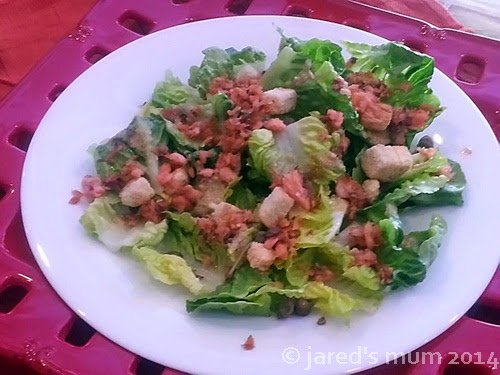 Here are the ingredients:
1 medium-sized lettuce, chopped
3 tablespoons lemon juice
2 pieces large egg yolks
6 pieces Dona Elena Flat Fillet Anchovies, mashed
3 pieces garlic cloves, minced
1/2 teaspoon Worcestershire sauce
10 tablespoons Dona Elena Pure Olive Oil
3/4 cups Parmesan cheese
1/4 kilogram salmon fillet
1 cup croutons
salt and freshly-ground pepper to taste
Here is how to prepare this dish:
Whisk lemon juice and garlic
Whisk in egg yolks, anchovies, and Worcestershire sauce
Drizzle in the olive oil in a slow and steady stream while whisking. Continue until dressing is thick.
Mix in the Parmesan cheese. Season with salt and pepper to taste.
For the salmon, heat some olive oil in a frying pan
Saute the salmon fillet, breaking into flakes while cooking. Season with salt and pepper and cook until salmon flakes become a bit toasted but not burnt.
Remove from heat
Toss the chopped lettuce with the dressing. Top with toasted salmon, capers, and croutons.
2. Mediterranean Lasagna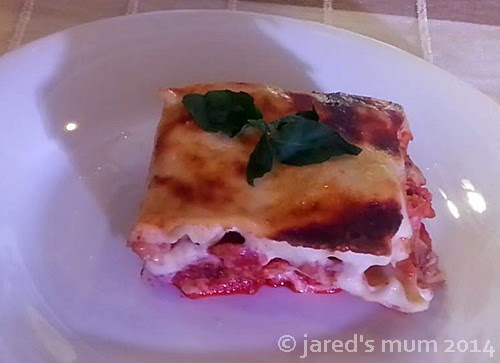 Here are the ingredients for this dish:
350 grams chicken breast, cut into bite-sized pieces
3 pieces garlic cloves, minced
120 grams chorizo bilbao, sliced or diced
1 large onion, chopped
400 grams Jolly Mushrooms, sliced
185 grams Dona Elena Pimientos, sliced
1 piece green bell pepper, sliced
1 tablespoon Jolly Tomato paste
400 grams Dona Elena Diced Tomatoes
1 teaspoon dried oregano
3 tablespoon butter
3 tablespoon all-purpose flour
1 cup Jolly Cow Fresh Milk
a pinch of nutmeg
1 500 grams Dona Elena Lasagna sheets
salt and freshly-ground pepper to taste
Parmesan, grated and Quickmelt or mozzarella cheese for topping
Here are the steps to cook this dish:
Heat olive oil in a saute pan
Add in the chicken and garlic and saute. Set aside.
In the same pan, cook the onions and chorizo until chorizo gives out its color.
Mix in the tomato paste and canned diced tomatoes and add in the dried oregano. Let simmer until sauce is thickened.
In a separate pan, heat some olive oil and cook the onions, red pimiento, and green bell peppers and mushrooms until the peppers are softened. Season with salt and pepper.
For the bechamel sauce, heat the butter in a sauce pan and whisk in the flour until well incorporated. Add in the milk and continuously stir until thickened. Add in the nutmeg and season with salt and pepper to taste.
In a baking pan, place small amount of sauce at the bottom. Layer with lasagna noodle first then top with the chicken and chorizo sauce then lasagna then the bell peppers and mushrooms saute and so on. On each layer, sprinkle with grated parmesan cheese. End with a lasagna sheet on top and pour over the bechamel sauce. Sprinkle with mozzarella or quickmelt cheese.
Bake in a 360 F oven for at least 30-45 minutes or until the top is golden brown.
These dishes sure will be an interesting addition to your Noche Buena feasts. Try them out in your kitchen and do let me know how it goes, right? 🙂 For more Dona Elena recipes, do check out the Dona Elena Cuisinera Club Facebook Page.