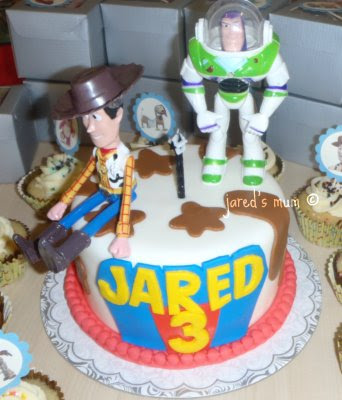 This is the birthday cake I had made especially for the little man's Toy Story-themed third birthday party we celebrated last Sunday. It was made by PH Bakehouse. My order was also quite timely as they are having a sale at the time + I got my cake at 20% less! I decided on just a small cake since McDonald's won't allow us to serve the cake to our guests anyway + as additional treat, I just ordered two dozens of cupcakes to give out at the end of the party.
I love how the cake turned out. It was lovely, won't you agree? Even the little man was excited when he saw it for the first time. He was also thrilled at the cake toppers which are actual Woody + Buzz Lightyear toys. He went on to play with it + the rest of the Toy Story gang that was included in my cake package, that I just had to sanitize them afterwards so that I can put them on our cake in time for the party! 😉
Jared's cake also tasted delish + I regret that our guests were not able to enjoy it. Oh well, I do hope they enjoy the sweet treat we gave them to take home, though. The cuppies are also topped with lovely Toy Story characters to go with our theme. They are also placed on separate silver boxes for easy distribution + handling.
Thanks sis Iris for making my little man's birthday extra special, I will be sure to order more cakes in the future! ^_^
Sharing our birthday treat with: