Welcome to Hyundai Media Pad Giveaway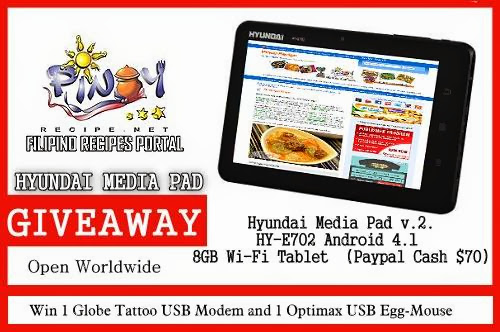 This giveaway is hosted by
3 Lucky Winners
Hyundai Media Pad Giveaway event is OPEN WORLDWIDE
Prizes:
1] Hyundai Media Pad v.2. HY-E702 Android 4.1 8GB Wi-Fi Tablet or Paypal Cash $70 (outside Philippines)
2] Globe Tattoo Sonic USB broadband modem or Paypal Cash $25
3] Optimax Optical USB Mouse or Paypal Cash $5
Note: Winners outside Philippines will receive Paypal Cash
Event Dates: September 18 – October 28
Hyundai Media Pad ( 7 inch tablet ) Specification:
The Hyundai Media Pad HY-E702, with its 7-inch capacitive touchscreen, has all the screen real estate you need to fully enjoy everything that Android has to offer.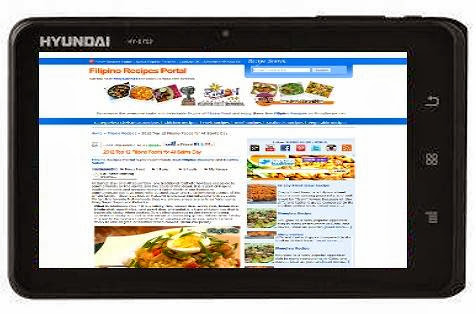 If you're tired of squinting just to browse your favorite websites, play the most popular games available, or even watching movies, the Hyundai Media Pad definitely has your back. The unit itself is still relatively lightweight, compact, and easy to carry around.
Android 4.1, Jelly Bean
7.0″ Capacitive Touch Screen, 800×480 Display
3G Support
8GB Expandable Up to 32 GB, 512MB RAM
1.2-1.5 GHz Processor
Features Back-rear Camera
HDMI and OTG Support
Supports Video Call
2500 mAh battery
Fits 3.55mm earphone jack
Features Wi-Fi and GPS
Organized by: AspireSearchMarketing.com
With a special Shoutout to our event Co-Host: A day in the tangled skeins of my life, Bacolod City Guide, Best American Recipes, My Chocolate Recipes, Smoothies and Cocktails, My Salad Recipes, Travel Philippines, HBI.net.ph and Boracay Resorts Guide

Join using the Rafflecopter widget below. Good luck! 😉
Disclosure: I received no compensation for this Giveaway Event. Mum Eats is not responsible for shipment of the prize . This event was organized by AspireSearchMarketing.com please contact PinoyRecipe.net with questions or if you want to be featured on our the next Giveaway event!